PVC Hexagon Male BSP Threaded Adaptor
Converts metric pipe to a male British
Standard Pipe Thread
Available items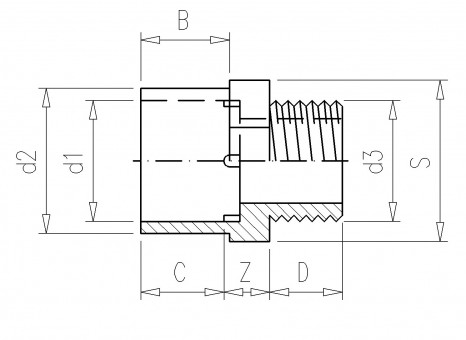 | ART.code | d1 | d2 | d3 | Z | B | C | D | S | PN | Verp |
| --- | --- | --- | --- | --- | --- | --- | --- | --- | --- | --- |
| 3.15.050 | 20 | 28 | 1/2" (M) | 6 | 14 | 16 | 16 | 32 | 16 | 250 |
| 3.15.060 | 25 | 32 | 1/2" (M) | 8 | 19 | 19 | 16 | 36 | 16 | 300 |
| 3.15.065 | 25 | 32 | 3/4" (M) | 6 | 19 | 19 | 19 | 36 | 16 | 300 |
| 3.15.070 | 25 | 32 | 1" (M) | 9 | 19 | 19 | 20 | 36 | 16 | 300 |
| 3.15.075 | 32 | 40 | 1/2" (M) | 10 | 22 | 22 | 16 | 46 | 16 | 300 |
| 3.15.080 | 32 | 40 | 3/4" (M) | 10 | 22 | 22 | 17 | 46 | 16 | 300 |
| 3.15.085 | 32 | 40 | 1" (M) | 10 | 22 | 22 | 21 | 46 | 16 | 300 |
| 3.15.090 | 32 | 40 | 1 1/4" (M) | 10 | 22 | 22 | 23 | 46 | 16 | 300 |
| 3.15.092 | 40 | 50 | 1/2" (M) | 11 | 26 | 26 | 16 | 55 | 16 | 225 |
| 3.15.093 | 40 | 50 | 3/4" (M) | 11 | 26 | 26 | 17 | 55 | 16 | 225 |
| 3.15.095 | 40 | 50 | 1" (M) | 11 | 26 | 26 | 21 | 55 | 16 | 225 |
| 3.15.100 | 40 | 50 | 1 1/4" (M) | 11 | 26 | 26 | 23 | 55 | 16 | 200 |
| 3.15.105 | 40 | 50 | 1 1/2" (M) | 11 | 26 | 26 | 23 | 55 | 16 | 175 |
| 3.15.110 | 50 | 63 | 1" (M) | 12 | 31 | 31 | 21 | 65 | 16 | 150 |
| 3.15.115 | 50 | 63 | 1 1/4" (M) | 12 | 31 | 31 | 23 | 65 | 16 | 150 |
| 3.15.120 | 50 | 63 | 1 1/2" (M) | 12 | 31 | 31 | 23 | 65 | 16 | 150 |
| 3.15.125 | 50 | 63 | 2" (M) | 14 | 31 | 31 | 25 | 65 | 16 | 150 |
| 3.15.130 | 63 | 75 | 1 1/4" (M) | 19 | 44 | 38 | 23 | 80 | 16 | 80 |
| 3.15.135 | 63 | 75 | 1 1/2" (M) | 19 | 44 | 38 | 23 | 80 | 16 | 80 |
| 3.15.140 | 63 | 75 | 2" (M) | 19 | 44 | 38 | 27 | 80 | 16 | 80 |
| 3.15.145 | 63 | 75 | 2 1/2" (M) | 19 | 44 | 38 | 31 | 80 | 16 | 90 |
| 3.15.150 | 75 | 90 | 2" (M) | 26 | 51 | 44 | 26 | 95 | 16 | 48 |
| 3.15.155 | 75 | 90 | 2 1/2" (M) | 27 | 51 | 44 | 30 | 95 | 16 | 48 |
| 3.15.160 | 75 | 90 | 3" (M) | 28 | 51 | 44 | 33 | 95 | 16 | 48 |
| 3.15.165 | 90 | 110 | 2 1/2" (M) | 31 | 61 | 51 | 31 | 115 | 16 | 27 |
| 3.15.170 | 90 | 110 | 3" (M) | 31 | 61 | 51 | 33 | 115 | 16 | 27 |
| 3.15.175 | 90 | 110 | 4" (M) | 31 | 61 | 51 | 40 | 115 | 16 | 27 |
| 3.15.180 | 110 | 132 | 3" (M) | 25 | 61 | 61 | 33 | 138 | 16 | 20 |
| 3.15.185 | 110 | 132 | 4" (M) | 25 | 61 | 61 | 40 | 138 | 16 | 18 |
PVC-U
PVC-U is a Polyvinylchloride without plasticizers that is extremely suitable for very wide applications, such as:
Chemical installations
Portable water applications
Food and beverage industry
Sanitary and swimming pool technology
Irrigation

The main advantages of PVC-U are:
Excellent chemical resistance
Corrosion resistance
Easy installation
Durability
Low maintenance

Pressure and temperature diagram
PVC-U has very good properties in a temperature range of 0°C to 60°C. At lower temperatures the impact resistance clearly decreases.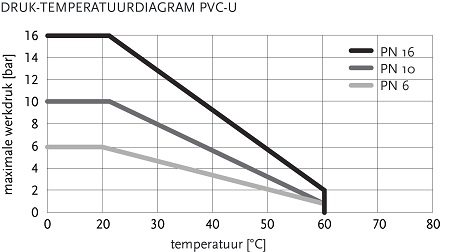 Figure 1

Figure 1 shows the maximum operating pressure for PN16, PN10 and PN6 fittings. This information is based on a lifespan of 50 years with a safety factor of 2.5.

Chemical Resistance
The chemical resistance of PVC-U depends on the conditions of use and must be assessed for each situation.
For more information, see the chemical resistance list.

Dimensions and standards PVC-U
The fittings correspond to the following standards:
DIN 8063
ISO 727
KIWA nr. BRL-K 504