Free Planning Service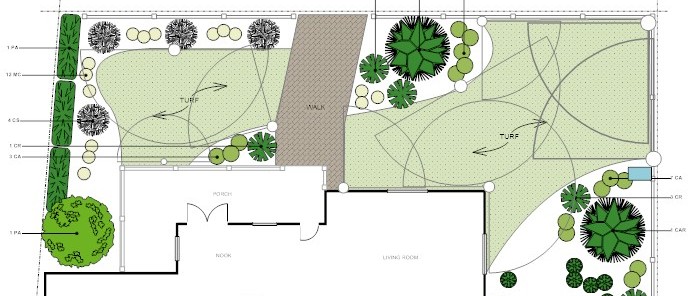 We think planning an irrigation system is simple. This is because we have years of experience working in agriculture and horticulture. Most Of the components are made by European companies who produce high quality and reliable irrigation fittings. .
We do know that when you look at our site it becomes daunting. With so many options of sprayers, drippers, types of pipe and then on top of this products have unusual names like pressure compensated. We know that this will confuse most first time customers. Because of this we offer a free planning service.
If you are thinking of installing any form of irrigation and are unsure of which components you need to order then please do email us at [email protected] or call on 0118 9736905. We have experts that will help you to choose the parts you need and will explain how they work. Or why not take advantage of our free planning service. This allows us to put together the ideal watering system for you which will be economical to run and more importantly will work.
Please follow the instructions below and supply us with as much information as possible. From this we will draw a scale plan. We will add in to this the zones and paths that the pipe will follow and email this to you along with a parts list which is priced, has pictures and we hope will make your irrigation system a simple installation job.
Step 1
We need a plan of your garden this can be relatively simple. If it is just one border that needs watering, then just sketch on the shape of the border with the sizes and let us know how far away the mains supply is. From this we can send you a clear diagram showing your border and a parts list to go with it.
If you would like a plan for watering the complete garden then send a sketch with dimensions clearly marked on the plan and we will produce a plan and parts list for the garden.
You can download and print a handy PDF file from here which will help you with your sketch.
Step 2
This is just some information about the water supply. The reason we need this information is so that we can calculate how to layout your garden watering system.
Please download the form from here or by clicking the image below.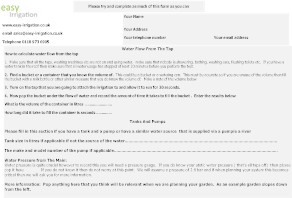 fill in as much as you can that is applicable to your garden and then email it back to us with your sketch. You can add a few pictures to give us a visual idea of the garden however please try and keep the attachments below 3 mb or we will have problems receiving the email.
We will reply to your email within 3 days however during April, May, June and July this may have to extend to 7 days